ACTE is your resource for quick, to-the-point information that will help you make the case for CTE with policymakers, businesses and the public.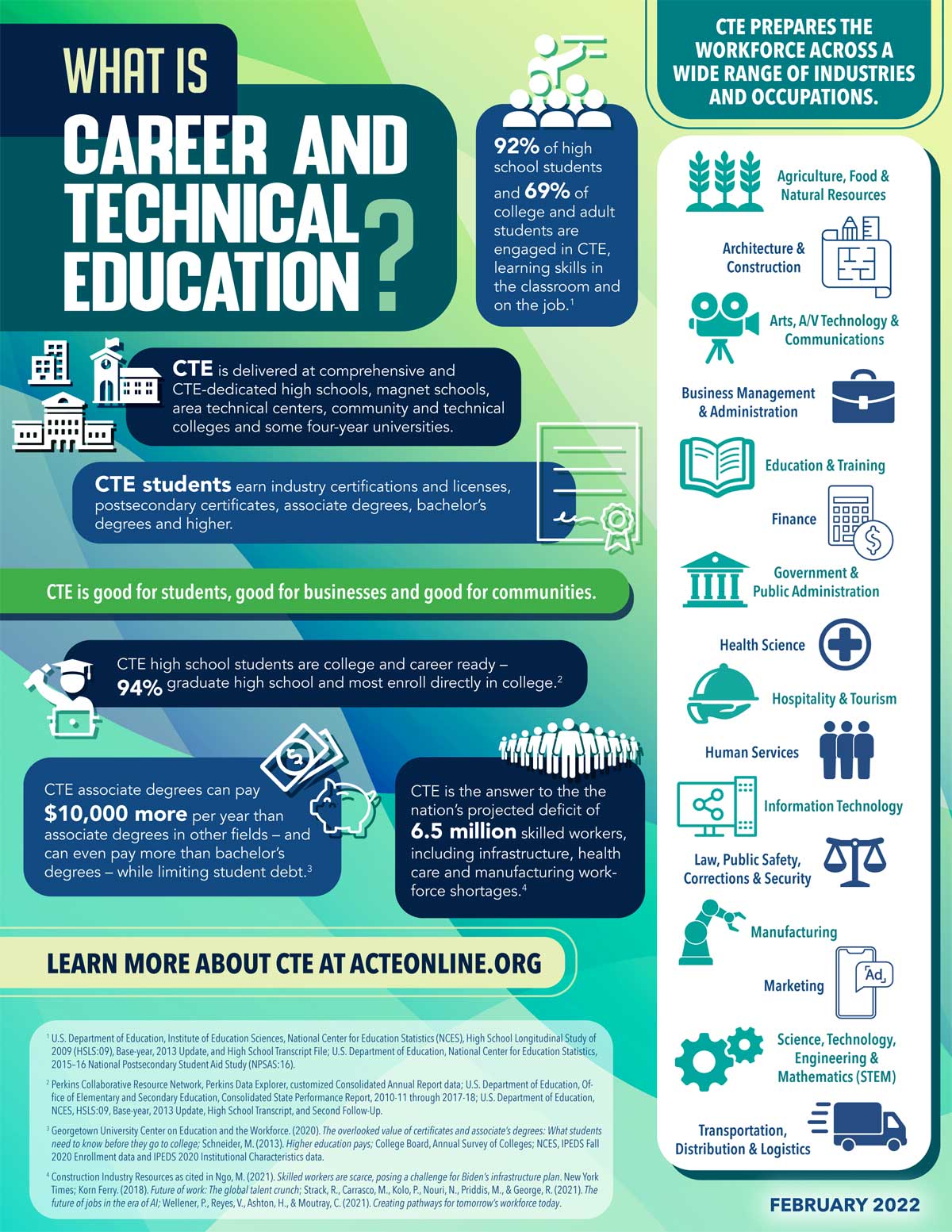 GENERAL FACT SHEETS
CTE Today
(Use it to introduce people quickly to the value of CTE). Overview of CTE focusing on numbers that will grab the attention of busy legislators, industry leaders and their staff.
CTE Works!
(Use to demonstrate the value of CTE). Research overview of CTE's impact on student academic achievement, dropout rates, adult workforce needs, earnings and employment outcomes, the skills gap and state economies.
Investing in Career and Technical Education Yields Big Returns
(Use it to show policymakers how investments in CTE will pay off for your community and state). Statistics from return-on-investment research of CTE programs across the country, showing that the economic impact CTE can have locally, statewide and nationally is enormous.
CTE: Readiness For All Careers
(Use it to communicate how CTE prepares students with employability skills for a variety of careers and industries). Connects the general workforce skills that employers most need with research demonstrating how CTE helps students develop skills with value across industries and career fields.
What is a Credential? 
Overview of the different taypes of credentials that can be earned by students in CTE programs of study.
TEACH CTE PAPERS
Teacher Recruitment and Retention - The National Teach Ag Campaign.
STATE POLICIES IMPACTING CTE: YEAR IN REVIEW
This publication gives an overview and a state-by-state summary of CTE-related policies enacted each year, including a chart showing key trends across the country, co-produced with Advance CTE. 2020 Year in Review (view recording from the companion webinar).
INFOGRAPHICS
A Brief History of CTE
Describes how federal CTE policy has evolved since 1917, up to and including the Strengthening Career and Technical Education for the 21st Century Act (Perkins V).
CTE Improves Student Achievement in High School, College and Career
Learn the benefits of encouraging your child to participate in CTE.
College and Career Ready Through CTE
Includes findings from our annual, nationwide survey of CTE students and educators, conducted in partnership with myOptionsTM. Visit our online dashboard to explore the data collected during the survey. Leave the username and password blank and click "Sign in." Use the tabs at the top to navigate, then filter by a number of variables.
Cybersecurity CTE: Your Pathway to Cybersecurity Careers
Learn how CTE provides students with academic, technical and employability skills for a career in cybersecurity.
SECTOR SHEETS
Sector Sheets describe CTE's role in growing the qualified workforce for vital industry sectors. Share with industry, education leaders, policymakers and the public to illustrate how CTE supports specific industries and prepares students for career success. Pearson proudly sponsors the ACTE Sector Sheets and Microdoc Series.    
Family and Consumer Sciences: Career Pathways and Employer Connections
Family and Consumer Sciences education prepares students for a wide variety of fulfilling, high-demand, high-wage careers within the Human Services, Hospitality and Tourism, Education and Training, and Visual Arts and Design sectors. Access this tool as a handout or a poster, and see citations for data used in this tool. Special thanks to Family, Career and Community Leaders of America (FCCLA) for the use of the central graphic in the fact sheet.
ISSUE SHEETS
Issue Sheet: CTE's Role in Rural Education
Explores how CTE supports rural students and the needs of local economies by providing rigorous and relevant career pathways that engage students in planning for their futures; develop students academic, technical and employability skills; and provide opportunities for work-based learning and mentorship, all delivered flexibly and creatively through different school formats.
Issue Sheet: CTE's Role in American Competitiveness
Explores how CTE plays a vital role in developing a well-educated workforce that supports American productivity and innovation through its emphasis on college and career readiness, including academic, technical and employability skills; its partnerships with industry; and its focus on postsecondary attainment that leads to careers that drive the global economy. Also see Business-Education Partnerships in CTE: Driving American Competitiveness.
Issue Sheet: CTE's Role in Worker Retraining
Explores the essential role that CTE programs play in addressing many issues faced by unemployed and underemployed workers. These programs target the adult learner through short-term and accelerated courses; use flexible learning approaches to account for students other responsibilities; addresses wraparound support services to increase student success; and high-demand career areas to ensure students are prepared for jobs that exist in local economies.
Issue Sheet: CTE's Role in Energy and Environmental Sustainabilty
Explores the growing role CTE programs play in efforts to increase energy and environmental sustainability. CTE offers early exposure to students regarding sustainable-energy career options through curriculum integration, provides the cutting-edge training necessary to ensure future employees meet work force pipeline needs, and sets an example through state-of-the-art green buildings that become part of the curriculum.
Issue Sheet: CTE's Role in Dropout Prevention
Summary of CTE's Role in Dropout Prevention and Recovery and includes concrete policy actions needed. It explores the critical role that CTE plays in dropout prevention and in helping more students complete high school through increasing student engagement and positive relationships.
OTHER RESEARCH
Career and Technical Education Leadership Series: Landscape of CTE Leaders
The goal of this study was to begin establishing a greater understanding of CTE leader certification and training needs by mapping and examining efforts nationally. This research focused on identifying and locating critically important data about CTE leaders that will be used to inform the design of professional development materials and further establish and broaden the channels of communications about new resources for CTE administrative professionals.